Trapeze Artist - She's A Wildcat Filly
Purchased for $175K+GST at the Melbourne Premier sales
Trained by the Maher and Eustace team
32.5% available
Sharp 2yo type, half-sister to a 2yo stakes winner. 

She has a great action, an amazing temperament, a big girth, and all the physical attributes to become a good horse. 

The dam is a full sister to the Gr1 winner FOXWEDGE.  

This filly has a high residual value and she has an ideal pedigree to breed from later on. 

TRAPEZE ARTIST was an elite sprinter who won no less than 4 Gr1 races and he broke Black Caviar's track record. 

TRAPEZE ARTIST won 3 more Gr.1 races than his sire SNITZEL and he has already produced more stakes horses than Snitzel did at the same stage of his career. 

Since we bought this filly there have been 2 NEW STAKES WINNERS under the second dam: BANK MAUR won the Gr2 Alistair Clark and NAMESAKE won the Listed races BRC Oxlade stakes. Check out the resemblance with NAMESAKE as a yearling. (see photo below)

FASTNET ROCK who is the broodmare sire of our filly is also the broodmare sire of 91 stakes winners including 8 Gr1 winners such as SANTA ANA LANE, RUSSIAN EMPEROR, ZOUGOTCHA, PALAISIPAN, GYTRASH, TIVACI, RHEA MOON, GLINT OF HOPE.
NAMESAKE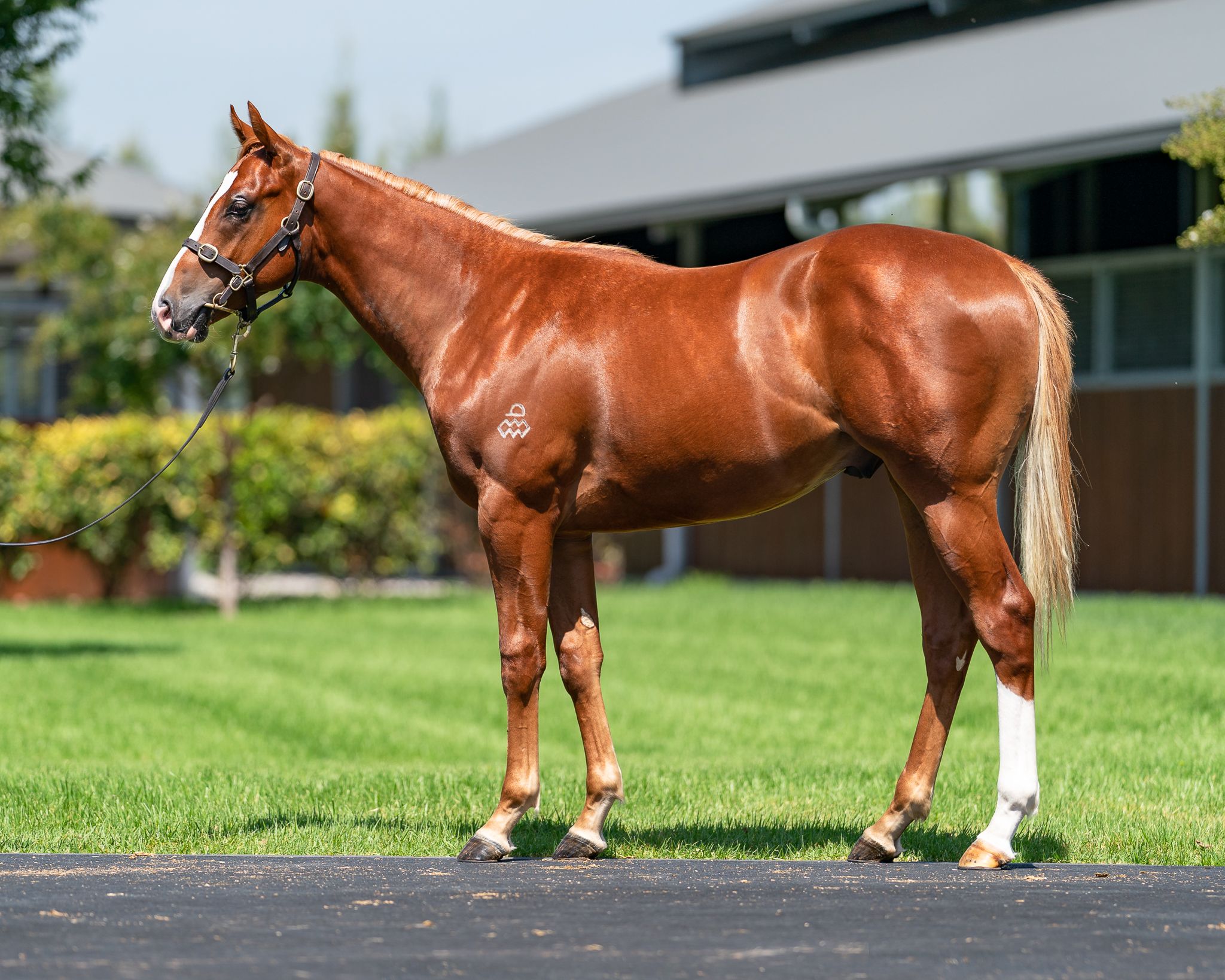 The report below compares TRAPEZE ARTIST and his sire SNITZEL at the exact same stage of their career. 
This Arion report clearly shows that the progeny of Trapeze Artist have won my prize money and more stakes races so far than what the champion sire Snitzel did at the same stage.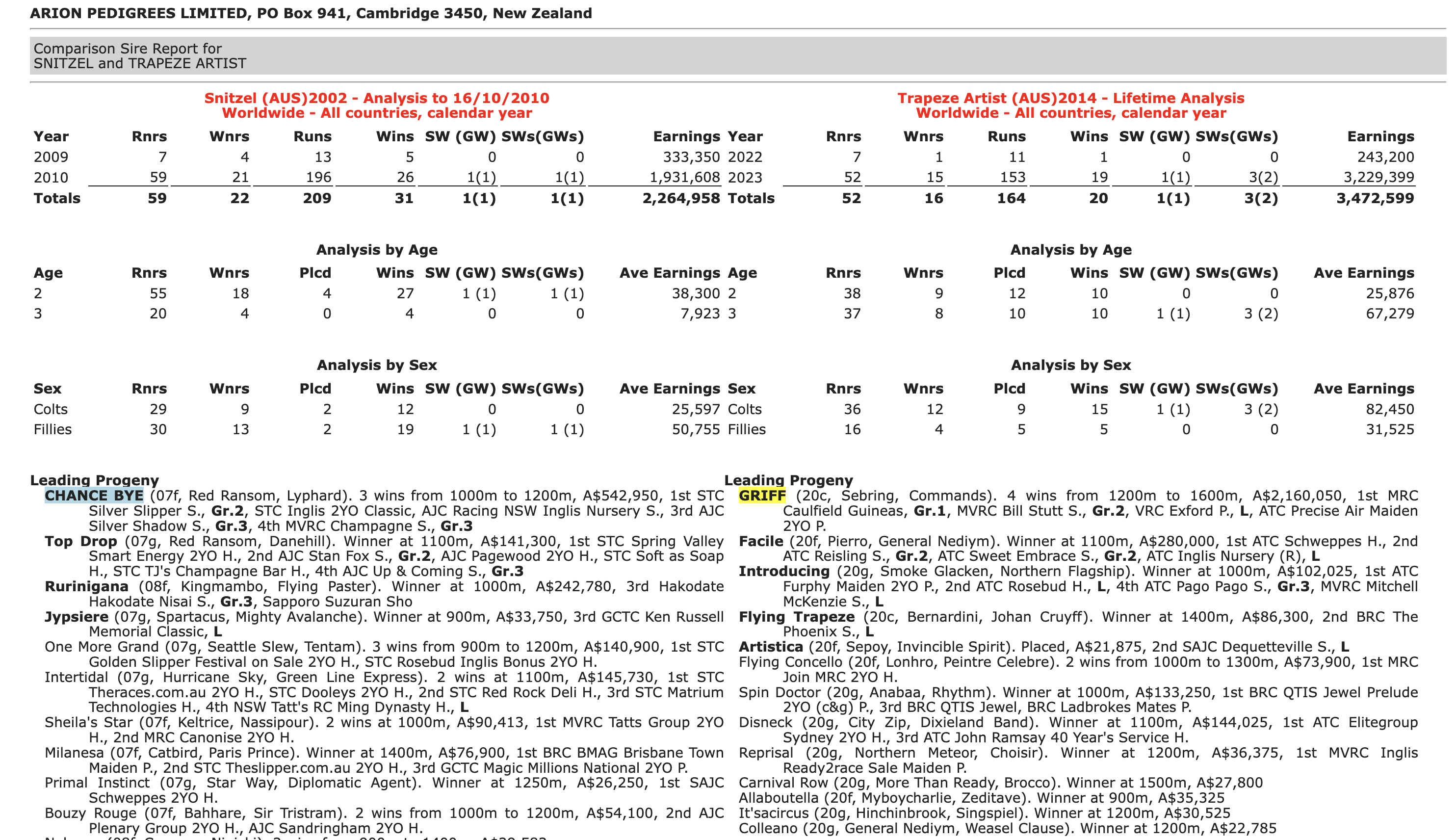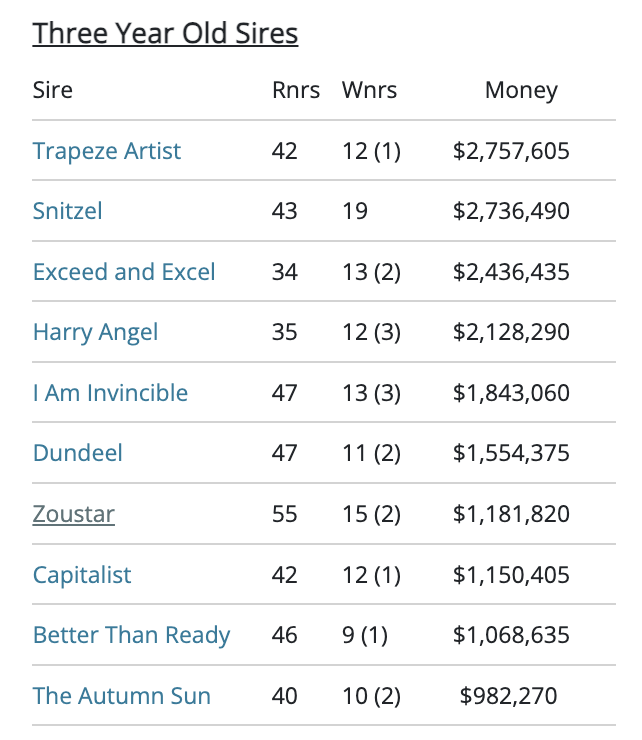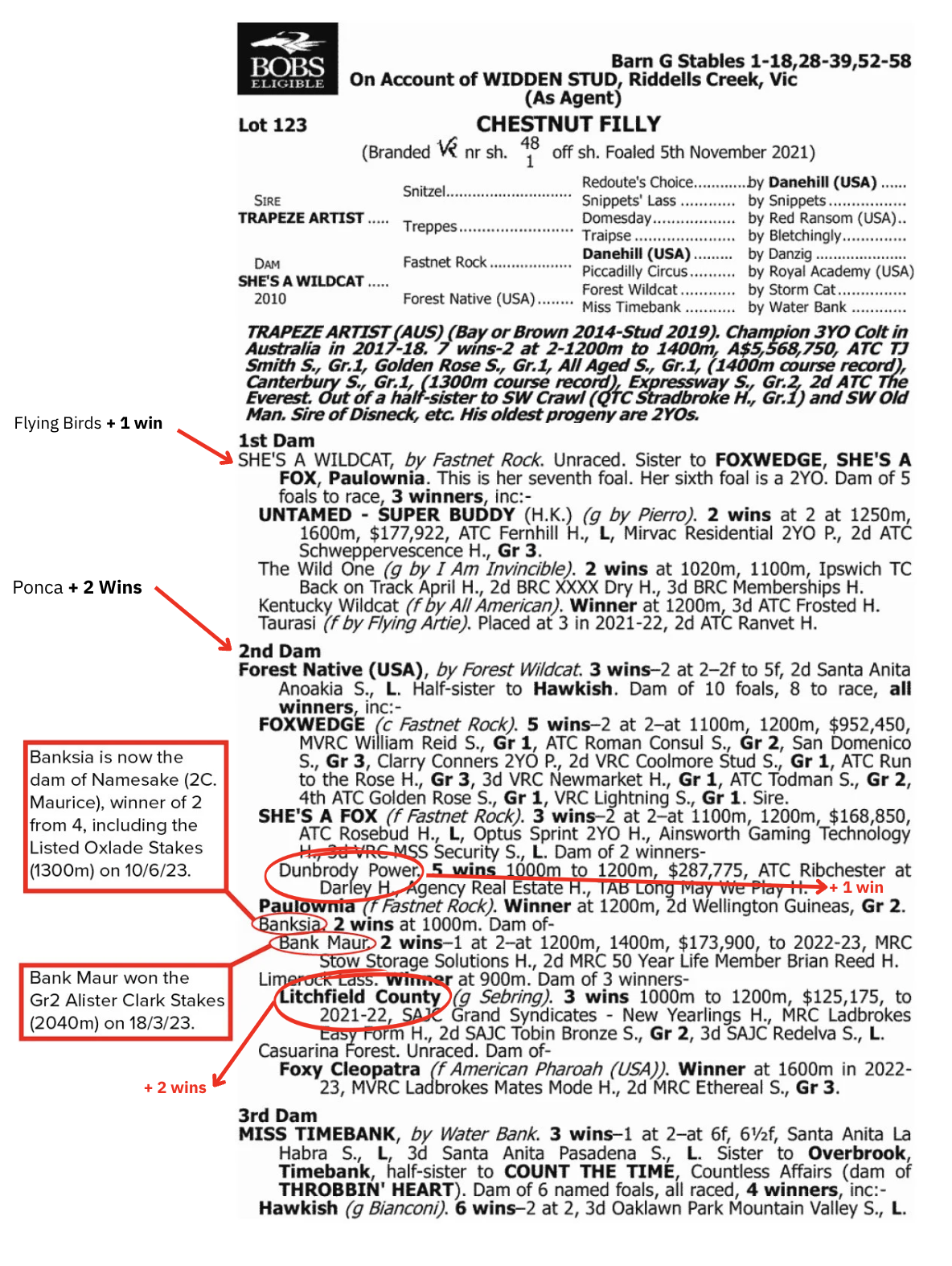 Latest Vet Report 29/11/2023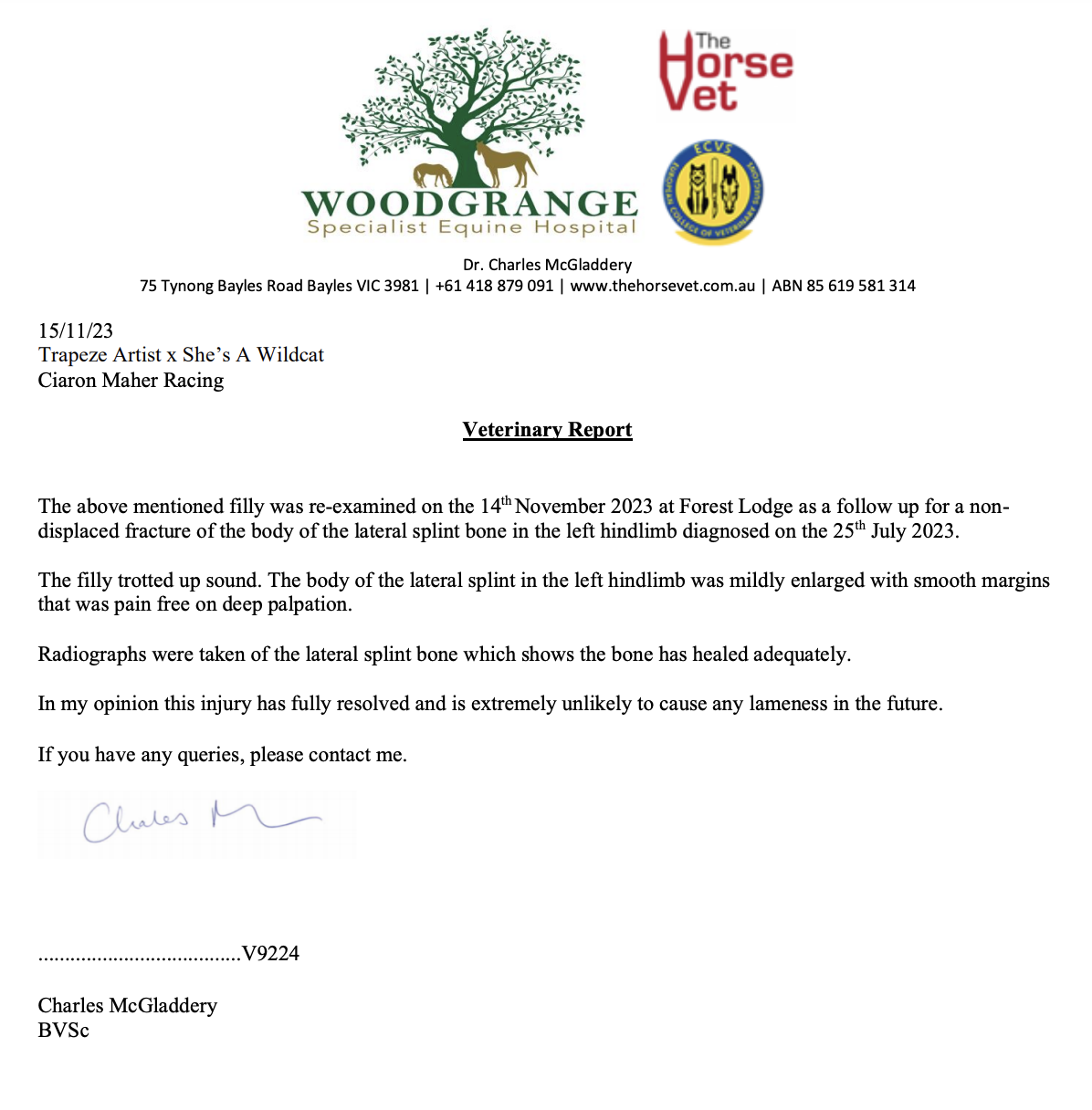 Top chestnut horses with a lot of white include: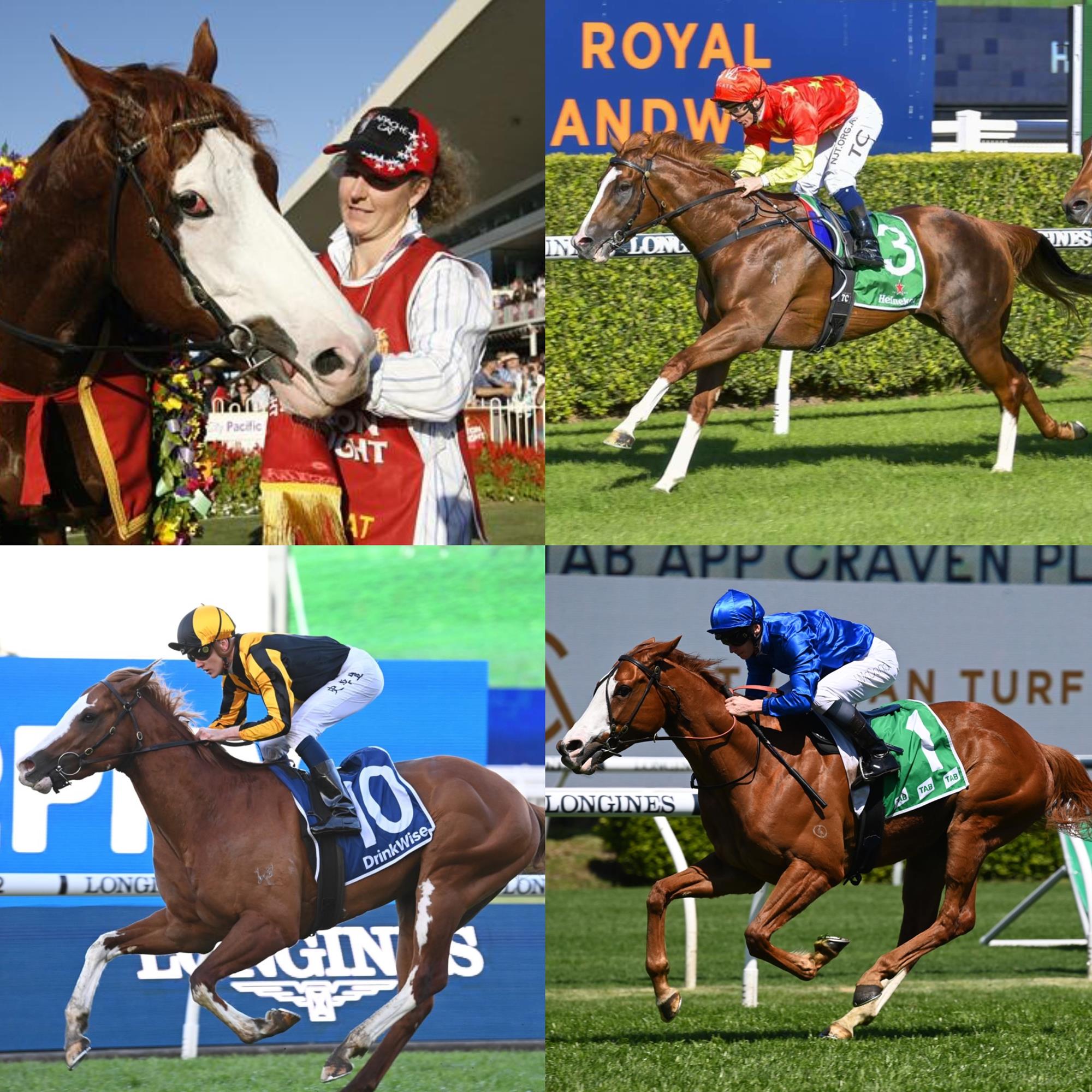 (Top left) Perhaps the most famous racehorse of all that has plenty of white markings is the eight-time Gr1 winner APACHE CAT (below), who won a total of 18 stakes races and $4.58m before retiring in 2009.
(Top Right) Another Group 1 winner with lots of white is IN THE CONGO (Snitzel), pictured below.
(Bottom left) The photo below is of a colt bred by the same breeder as this filly, with the same colour and markings, who was passed in at the sales because of his colour. This colt is now named SWEET RIDE and he is a winner of the Group 3 San Domenico Stakes. Colour won't stop a good horse from reaching their potential!
(Bottom right) Another horse with unusual white markings is CASCADIAN, winner of the Group 1 All-Aged Stakes, Group 1 Doncaster Handicap and Group 1 Australian Cup.
32.5% available
In this market, I can guarantee that this filly will always be worth $100K as a maiden winner to go to stud. 
 
For more information please call Louis Le Metayer on 0408 666 251 louis@astutebloodstock.com
The pursuit of top horses continues in Europe this spring.
Video
Who is the best stallion for your mare?
Video